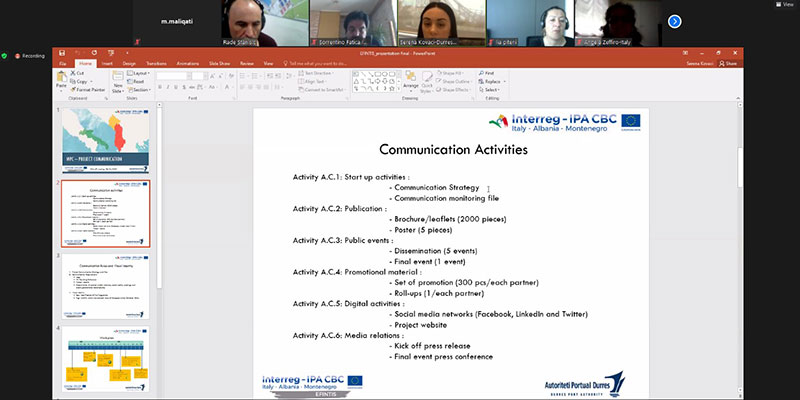 EFINTIS project, second Coordination meeting held online
Overview
The second coordination meeting between the partners of the EFINTIS project - which started in July 2020 - took place on 28 April 2021, online. 
The Project Leader, Port of Bar, introduced WPM and coordinated the development of the meeting. Afterwards  there was the presentation of WPC by the Port of Durres, WPT1 by the Albania Institute of Transport and WPT2 by the Autonomous Tourism Agency in Termoli. 
The activities carried out so far, managerial and technical details of the project development were discussed and tasks were assigned for their further development.
In the last session of the meeting, the Project Steering Committee was set up and held its first meeting.
Finally partners agreed to hold the next meeting, which is also expected to take place online.
The EFINTIS project is co-funded by the Interreg IPA CBC program Italy-Albania-Montenegro, with a total budget of € 1,075,500 and with the main goal of strengthening and increasing the connections of transport units in the region. The project will develop new ICT solutions which are especially needed in the current COVID-19 pandemic situation.